Episode 16: Angelina Baker
Some tunes can kill a jam.
And some tunes can save them.
Not only is Angelina Baker is a jam classic, it's also a classic jam saver, perfectly suited for those moments when your friendly neighborhood jam seems to be losing steam. Perhaps a few tunes have gone by that left the less advanced players behind, or you've got a fiddler with a penchant for choosing obscure crooked tunes from Southwest Coweta County. The jam has fallen off the rails, and you need a tune to get it back on track. A tune that everyone can partake in, that's virtually guaranteed to be rollicking along by the second or third run through.
Enter Angelina Baker (aka "Angeline the Baker"). With its strong, yet simple and memorable melody, straightforward chord progression, and common position in the repertoire of beginning old-time musicians, it meets all the criteria needed for injecting life back into a flagging jam.
I also think that if you're trying your hand at playing a banjo-fiddle duet for the first time, Angelina Baker is a great tune to begin with.
Before we dig in, here's a preview of my own final take on this tune:

Step 1: Know thy Melody
As usual, there is to be no plucking of thy banjo until you can sing or hum the melody. And to sift the melodic essence from the baking Angelina, let's take a listen to a few fiddler's interpretations of this classic, courtesy of the Fiddle Hangout archives:
Step 2: Find the Melody Notes
Okay, once you've listened enough times to have the melody firmly in mind, it's time to set out and find it on the banjo. Angelina Baker is typically played in the key of D, so go ahead and get your 5-string into ADADE tuning ("double D") before you go note hunting.
Here's what I hear as the essence of Angelina (A and B part each played once through):
And here's what that looks like tabulationally arranged: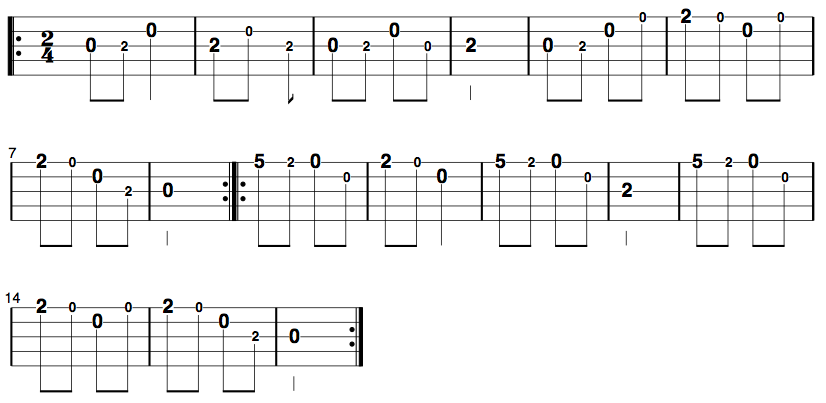 Step 3:  Add Some
Clawhammery

 Stuff

Next up, we'll create a basic arrangement suitable for any jam setting by simply adding a "ditty" strum after each melody note that falls on the downbeat (the notes in bold in the tablature).

Here's what that looks like: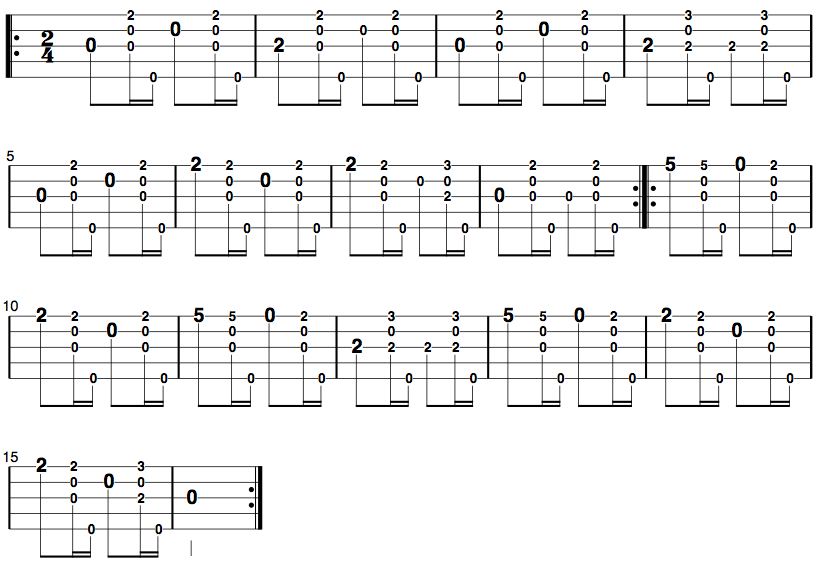 And it sounds as follows:
Alongside the fiddle, we find it plays very nicely:
Step 4: Add Flavor
Like any good baker, now it's time to add your own personal stamp to this basic recipe. Spice it up with a few fretting hand notes with hammer ons, pull offs, or slides. Or sweeten it up by adding in the rest of the melody notes – since this isn't a particularly notey tune, and since the melody notes are easy to grab in this tuning, it's a good one for getting your feet wet with a more melodic style of playing. The simple melody here leaves lots of room for individual expression, so modify it any you way you please to suit your own tastes.
You can hear my final arrangement in the video above, and the tab for it is below: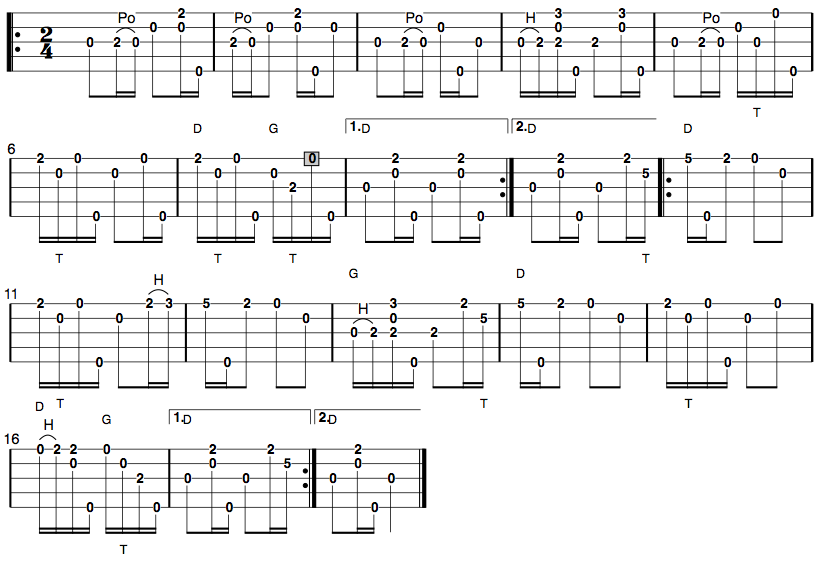 Step 5: Practice Smart
Now it's time to burn this one into your brain circuits. My favorite place to start doing so are the Beats for Banjo tracks (select tempo through the playlist icon on the upper right):