I defy you not to grab your banjo after listening to this tune.
There's just something about Wandering Boy. Instantly likable. And I'd bet after only a few listens its melody is indelibly embedded in your memory.
And while the tune itself is traditionally traced back to a Frank Jenkins fiddle recording from 1927, it has more recently taken on a life of its own as a solo banjo tune. As you'll soon discover, it sounds great on solo banjo, and it's melody seems tailor made for clawhammer banjo. So let's do it!
Step 1: Know Thy Melody
The learning of thy tune shall not commence until its melody is firmly established inside one's mind. As usual, don't go looking for notes on your instrument until you can hum, sing, whistle, or otherwise recreate the tune inside your mind. Give it a few listens until you can do so from start to finish, then proceed to step 2.
Step 2: Find the Melody Notes
Before we take out our fretboards and go note hunting, let's make sure we're all on the same page about the basic melody of this tune. Remember, here, we want to distill this melody down to its essence, minus all the clawhammery bits.
Here's what I hear as the basic melody Wandering Boy:
I'm playing this tune in the key of C, and am tuned to gCGCD, or "double C" tuning. Once there, see if you can find those core melody notes on the banjo, then consult the tab below if needed:
Wandering Boy, Core Melody
gCGCD tuning

Step 3: Add Some Clawhammery Stuff
It won't take much to turn this basic melody into a great sounding clawhammer piece. And this is a tune that doesn't need a whole lot of embellishments, as the core melody is already so strong and compelling.
So, to create a basic clawhammer arrangement, we'll adopt our usual protocol of keeping the notes that occur on the downbeat (the bolded notes in the tab), and then adding a ditty strum afterwards, like this (chords listed above the tab):
Wandering Boy, Basic Arrangement
gCGCD

 tuning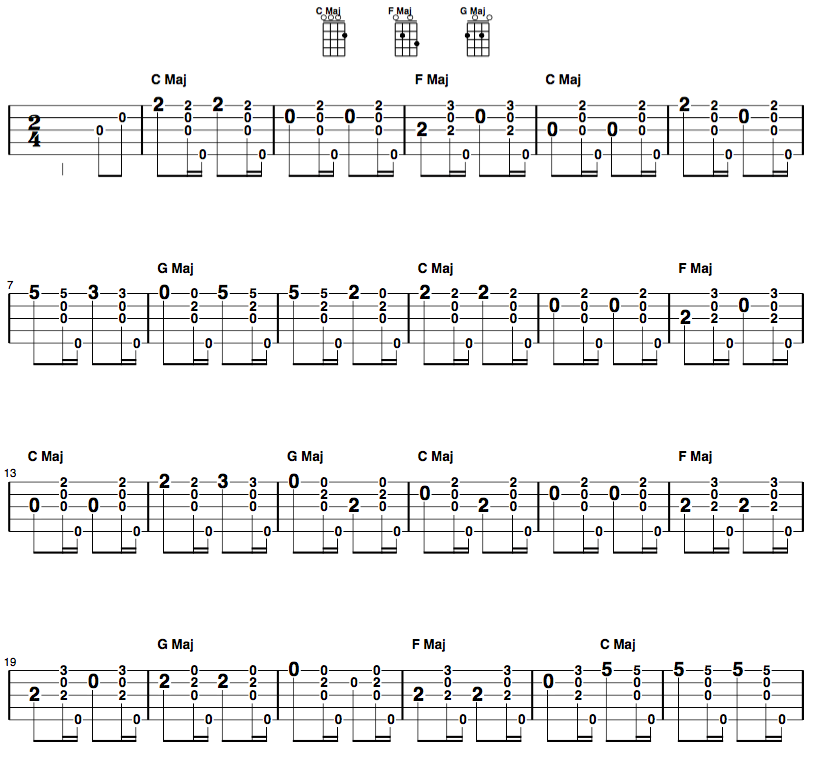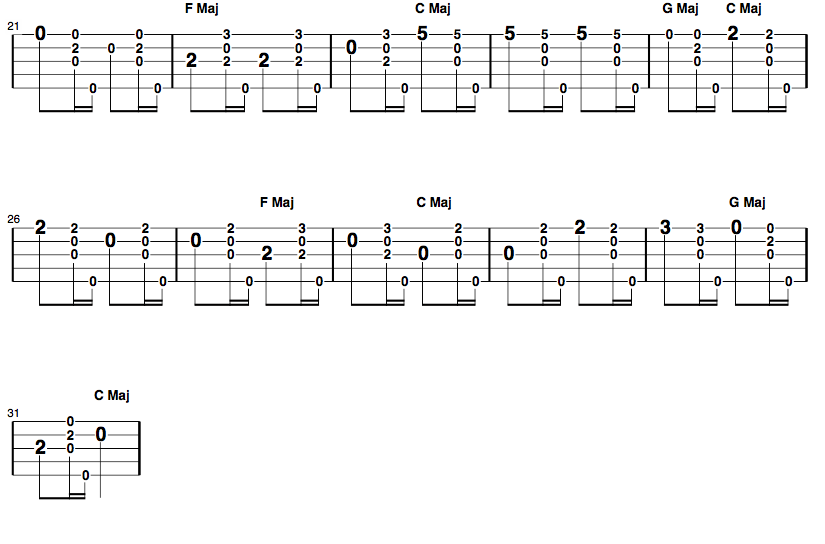 And here's what this version sounds like:
Now it's time to add some personal flavor to the arrangement. In my particular version, I've syncopated a number of the melody notes through hammer ons and pull offs. The 5th measure also is a great place for inserting the "Galax" lick, in which the picking finger plays multiple notes in succession (in this case the 2nd string, followed by the 1st). This lick is indicated by the up arrow above the tablature (listen to the video to hear how it sounds).
Here's what the tab for the arrangement I play in the video looks like:
Wandering Boy, Full Arrangement