We all know that nothing showcases the unique sounds of the banjo quite like a modal tune. We also know that modal tunes might be best described as a "banjo player's banjo tune" – beloved by devout fans of the instrument, but perhaps not as well appreciated by the uninitiated, for whom its archaic scale tones may be a bit too inaccessible to the unfamiliar ear.
Not Shady Grove.
For whatever reason, this old nugget of a lovesong has become a crossover classic, with its popularity extending well outside the bounds of traditional old-time banjo. In that way, it's a great way to initiate the uninitiated, to introduce them to the idea that there are great sounds yet to be discovered outside of the monochromatic world of top-40 radio.
Or at least we can pretend this is so.
Anyhow, perhaps the best reason to learn Shady Grove is that it's simple melody that, in modal tuning, is darn easy to play! And play it we shall.
Step 1:  Know thy Melody
This step should be an easy one, as the melody for this song is dead simple.
In the video above, I'm tuned down to the key of D to better suit the gourd's temperament and my post-pubescent vocal chords, but we'll be playing it out of "G modal" tuning in this lesson, which means we'll be playing it in the key of G.
To help hear the melody in this new key, I'm going to attempt to sing a verse in G for you:
Take a listen to these examples enough time to etch this melody into the banks of your memory.
Step 2:  Find the Melody Notes
Speaking of G modal tuning, make sure your banjo is properly tuned to gDGCD before going note hunting. Once you're there, see if you can find the basic melody notes of this tune on your banjo.
Here's my version of the basic melody in audiophonic format:
And here it is represented in tabulational style:

Step 3 – Add Some 
Clawhammery

 Stuff

With that out of the way, let's make it sound like a banjo tune. Go ahead and first follow each of the notes that occur on the downbeat (placed in bold in the tab above) and follow them with a "ditty" strum.

Add in a few choice drop thumbs and hammer-ons to syncopate the melody (by shifting it to the offbeat) to add some interest, and here's what you get:

And here's how it sounds:
Step 4: Embellish to Taste
The simplicity of and space within this melody affords you ample opportunity to play around with it, so don't be afraid to stamp it with your personal style.
That's what I did in my final arrangement you heard in the first video. Here's what that looks like in tab: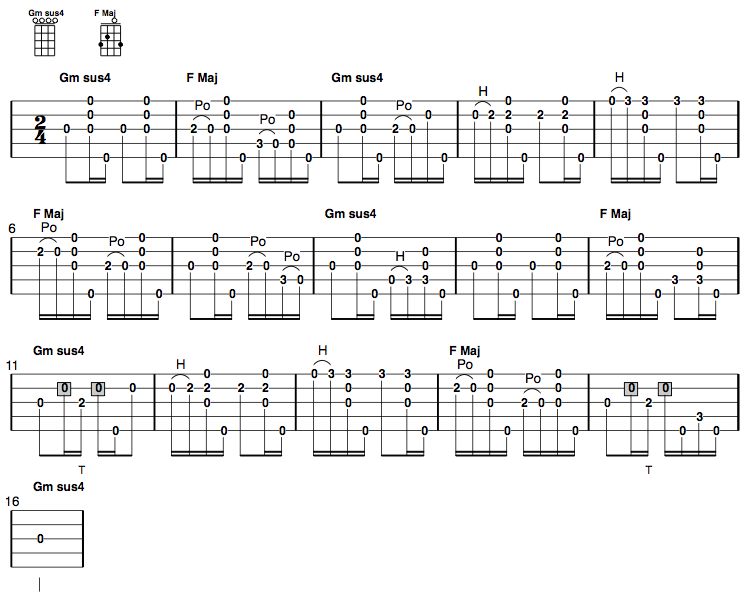 A Word (and a video) About Syncopated Skips
Notes in the shaded box in the tab above are "skip notes." In these instances, the picking hand continues as if it's going to strike the string, but doesn't actually come into contact with it (you "skip" the note). It's a great technique for adding syncopation, and one I receive a lot of questions about, so here's an in depth video lesson on the subject (part of the "Breakthrough Banjo" course):
And just to help you get a sense of what that sounds like in our current key of G modal, here is is played in that tuning: