Season 3: Songs for Singing!
Episode 3: "Oh Susanna"
For the singing banjoist looking to boost their repertoire, I don't think you can find a better source than Stephen Foster.
Classic, memorable melodies beloved by fans of all ages. And there are even banjo references!
You may not be coming from Alabama, but you must assuredly do have a banjo on your knee. And what better first Foster tune to tackle than the one sung from the point of view of a banjoist?
As we've discussed previously, we'll be using two primary tunings for our songs, standard G, and double C (keys besides "G" and "C" accessed via the capo). For this song, the key of C works better for the typical male vocalist (of which I am one), so this will be our first song in "Songs for Singin'" Edition of the Core Repertoire Series out of double C tuning.
Step 1: Know thy Melody
Being one of the most well known songs of all times, I imagine that this one is known well amongst most of you.
If not, give the video above a listen a few times until you can sing or hum it back, and then proceed to the next step.
Step 2: Find the Chords
As mentioned above, we'll be playing this one out of "double C", aka gCGCD tuning (I'm capo'd up to "double D" tuning the video, but for simplicity we'll keep our version in the key of C – in the end, you can choose the key that best suits your voice). So make sure you're there first, and then see if you can identify the chord changes.
As a refresher, here are the fingering positions for the I, IV, and V chords (C Major, F Major, and G Major, respectively) in double C tuning.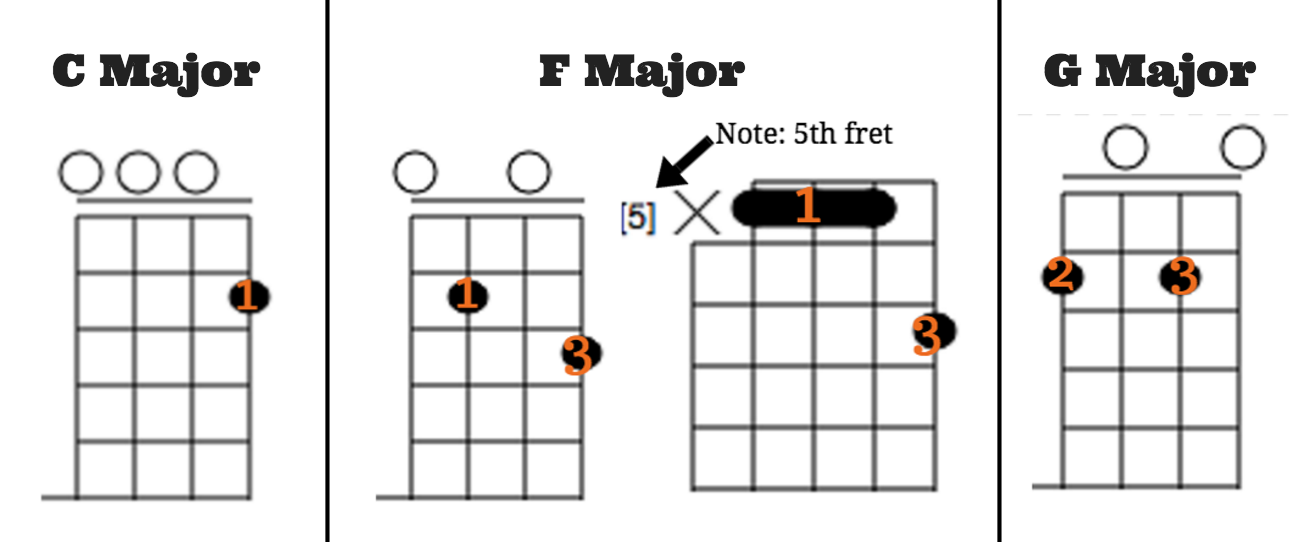 The easiest way to do this is just sing through the melody, strumming the chord as you go, and changing when things don't sound right.
Here's what we end up with:
Step 3: Play A Basic Backup Pattern While Fingering The Chords
Now let's create a straightforward backup pattern by playing a bum ditty pattern, alternating between the 3rd and 4th string on the "bum" strike.
Here's what that looks like in tab: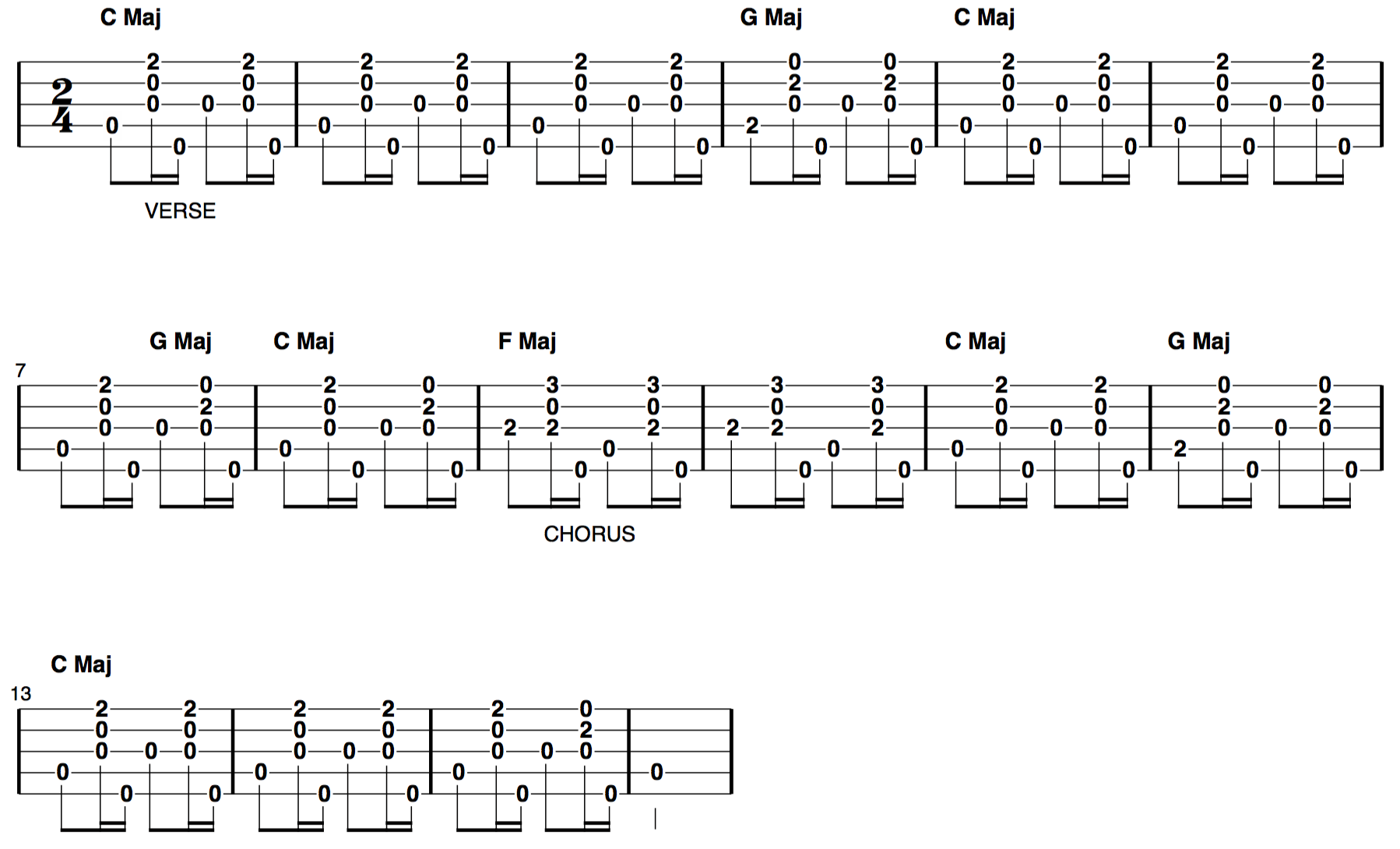 Here's how that sounds with singing:
Step 4: Add some easily accessed melody notes
To add some interest to what we're doing behind our voice, and to make everything sound super fancy, we can look for the melody notes that we can play on the "bum" strike that requires no additional movement of our fretting fingers (which are fingering the chord positions).
To help find those melody notes, let's find all the melody notes for "Oh Susanna" on the banjo. Here's what the melody for "Oh Susanna" sounds like on banjo:
And here's where those notes are located (but practice finding them yourself first if this isn't something you're comfortable with). I've bolded the notes that occur on the downbeat: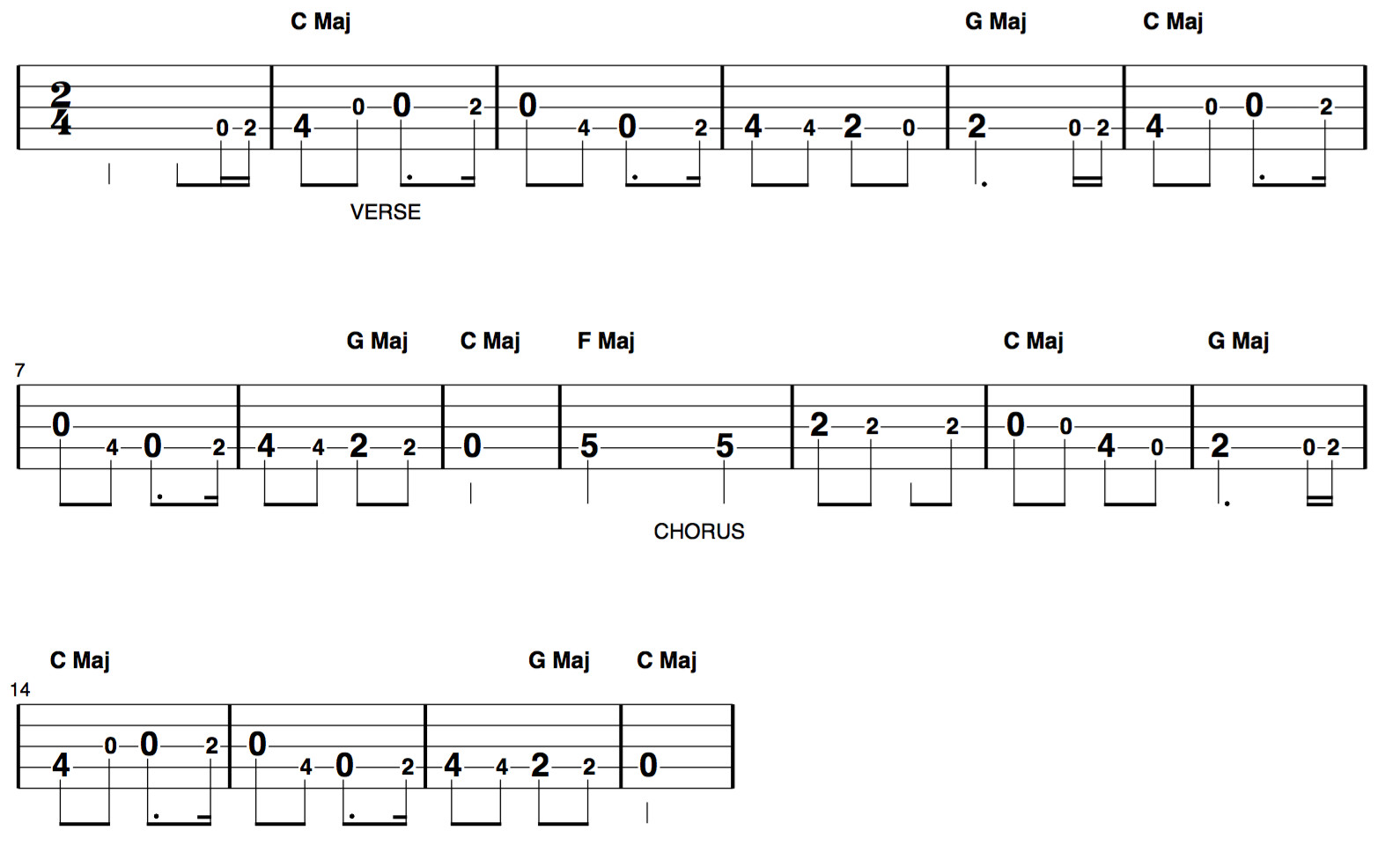 Now, let's revise our basic backup pattern to include those bolded melody notes. Note here that in order to play the melody notes in the 10th measure, we'll need to change where we finger our F major chord in that measure.
Here's what that looks like in tab: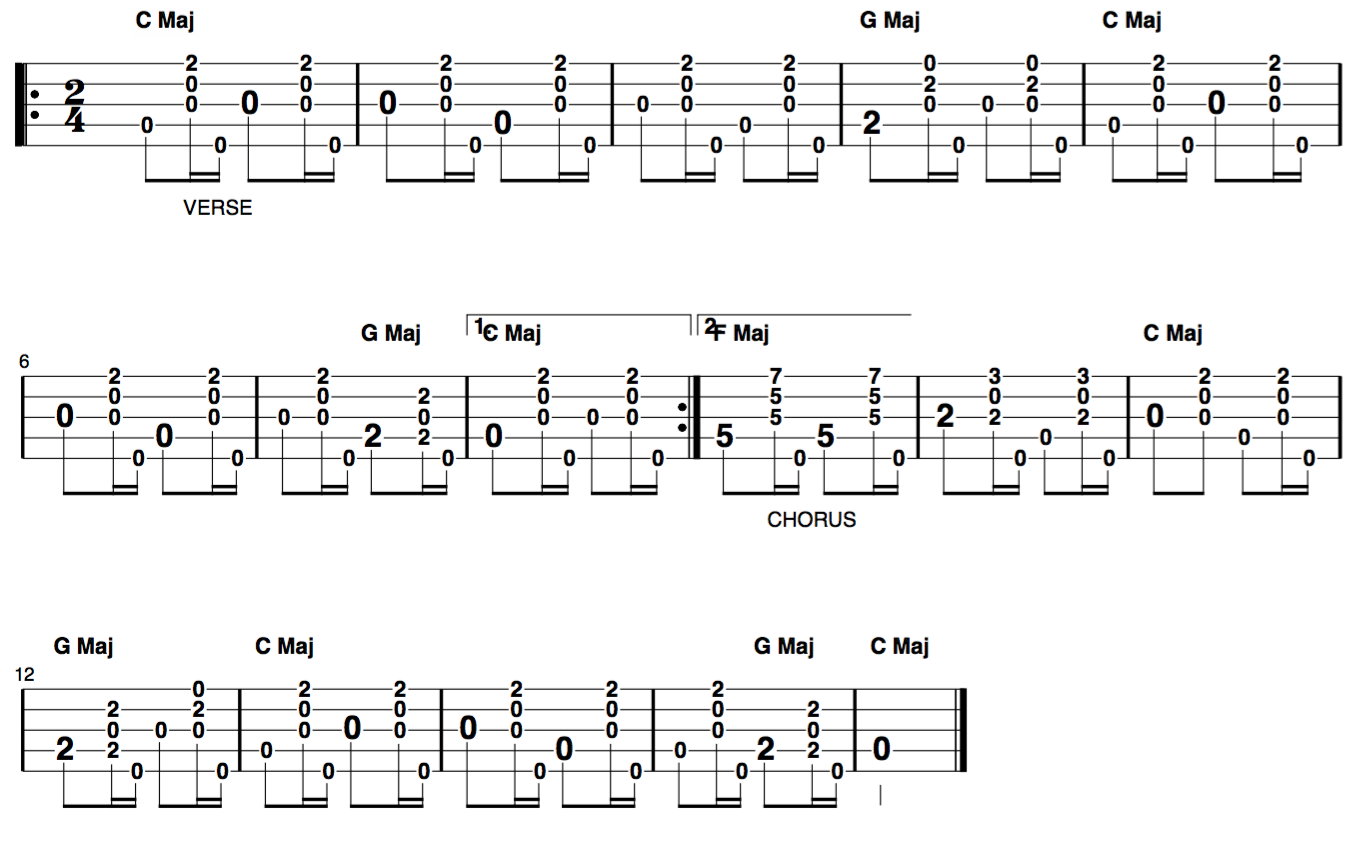 And here's how that all sounds behind some singing:
As you can hear, this simple pattern sounds great as a vocal accompaniment. In my version in the video, I've kept it simple as well, with perhaps the addition of a few hammer-ons.
If you want to add in a lead break, as I've done in the video, then the melody line tabbed out above is a perfect place to start.