Boy are we lucky to be alive in these times. With so much great music now literally at our fingertips, the hardest part about creating these Core Repertoire installments is choosing what tune to do.So you know if a tune makes the cut, it has to be pretty special.
This month's installment, "Needlecase", was popularized by the great fingerpicking banjoist Sam McGee. It is thought that he likely wrote the tune as well. And given his penchant for crafting infectious melodies, I can believe it.
And while this tune may have first been plucked into the sonic ether at the hands of an up-picking practitioner, it has since become quite popular amongst the downpicking set. So whether you choose to flick your finger towards the ceiling or the floor, you can enjoy McGee's masterpiece.
Step 1: Know thy Melody
Take a listen to the tune (from the video above) as many times as it takes to etch its melodic essence into your noodle . This is one catchy little tune, so I imagine it won't take too long to do so.
Once you've got it, and can hum or whistle along, you're ready to proceed to step 2.
Step 2: Find the Melody Notes
Next up, it's time to search our fretboard for our melodic suspects.
Needlecase is in the key of D, so get thy banjo into the downpicker's D tuning of choice, aDADE. Once, see if you can find the core notes of this tune on your banjo.
Here's what I hear as the essential melody:
And here's that tabulationally displayed: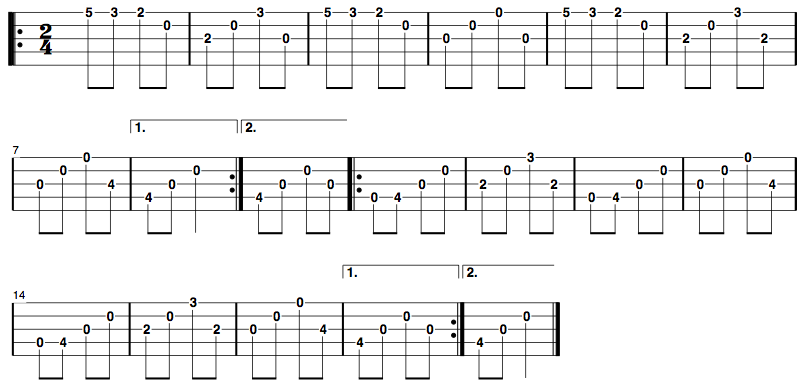 Step 3: Add Some
Clawhammery

Stuff

Now let's insert that melody into the bum-dittificator and see what we get. We'll keep all the notes from our core melody that occur on the downbeat, and then add on a ditty strum after each one (notes in bold are the melody notes we've left in):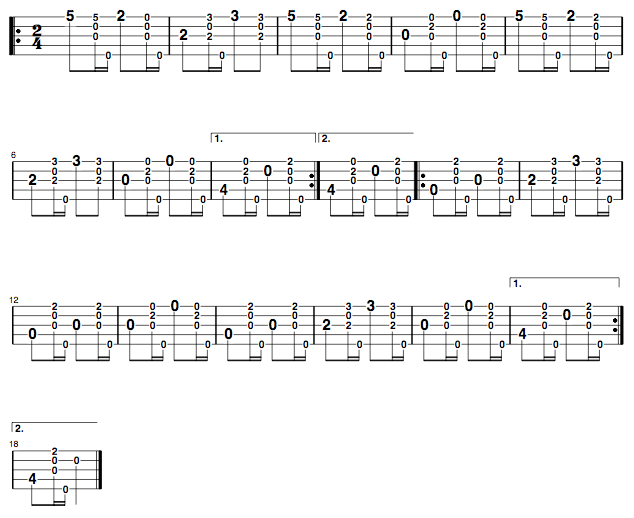 And it sounds like this:
Step 4: Embellish to Taste
Depending on your stylistic preference, you can take this arrangement further into "melodic clawhammer" territory by including more of the melody notes. The version I play in the initial video would be best characterized as a "melodic" version, as I've included every melody note possible (doing so, however, means that I can no longer maintain a particular rhythmic pattern (i.e. "bum ditty", etc.) throughout the arrangement.
Here's what that melodic version looks like in tab: