Episode 15:

June Apple
Wish I was a June Apple,
Hangin' on a tree,
Every time a pretty gal passed,
She'd take a little bite of me
Indeed.
Whether you share a wish to transmogrify yourself into a sweet, pomaceous fruit to attract the attention of pulchritudinous passersby, or you simply want to learn another great tune on the banjo, you're in luck! For this installment of the Core Repertoire Series, we've got another classic of a tune: June Apple.
June Apple is often grouped under the "modal" tune umbrella, meaning it's got a bit of that eerie quality that makes it feel ancient. It also means it gives you an excuse to use the word "Mixolydian" in ordinary conversation, upon which you'll be immediately bestowed 20 additional IQ points by anyone within listening distance, regardless of whether you're capable of elaborating further on the topic.
So now that you're sold on its merits, let's learn it!
First up, a multisensory presentation of the final arrangement:
Step 1: Know Thy Melody
If you've followed along this series at all, you know that there's no passing go till you've got the tune in your noggin'. Which means if you're not familiar with June Apple, or need to re-acquaint yourself, then you've got some listening to do first. As always, I prefer to hear how these fiddle tunes sound on the fiddle, and then adapt them for clawhammer banjo.
So, here are a few for your auditory pleasure, compliments of the fine folks at the Fiddle Hangout. Listen until you can hum or sing the melody, and have a good sense of the apple's essence.
Step 2: Find the Melody Notes
Now let's seek out them melody notes on the fretboard. First off, get yourself in our favored tuning for A tunes, aEAC#E. Now, here's what I hear as the stripped down melody of this one.
Basic Melody:
And in tabulational format, it looks thusly:

Step 3:  Add Some C
lawhammery

 Stuff

Now, to get a basic clawhammer arrangement that will sound quite nice paired with a fiddler, let's add a "ditty" stroke after each of those downbeats from our melody above (the notes in bold). Here's what that looks like: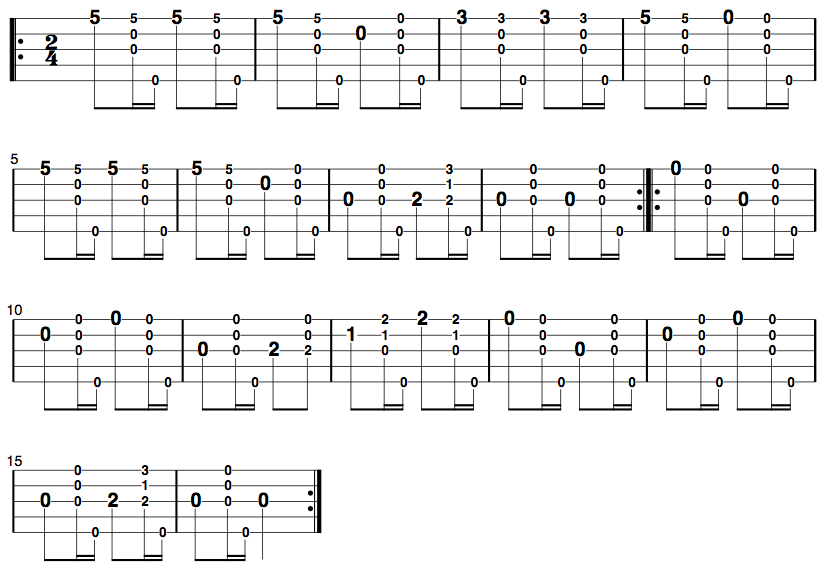 And here's what it sounds like:
Clawhammerated Apple:
And, as I said, if we pair this version with June Apple on the fiddle, we have something quite nice sounding:
Fiddle Added:
Step 4: Spice the Apple
Here's where you can add your own personal stamp by dressing up this basic outline any way you see fit. Add in more of those melody notes, or embellish with some well timed hammer ons, pull offs, or syncopations. As you do so, just remember not to sacrifice rhythm at the altar of fanciness.
You can hear my final rendition in the video above. You'll note that I tend to favor a fairly rhythmic style for this one, but that's just personal preference. Here's the final version in tab:
Step 5: Practice Smart
Now it's time to burn this one into your brain circuits. My favorite place to start doing so are the Beats for Banjo tracks (select tempo through the playlist icon on the upper right):