Episode 3: St. Anne's Reel
Sign up here
to get a
downloadable PDF of Episodes 1-15 of the Clawhammer Core Repertoire Series
. You'll also be notified whenever a new episode comes out.
With Soldier's Joy and Old Joe Clark firmly under our strap, let's move on to this month's installment of the
Clawhammer
Core Repertoire Series. We're venturing back to the key of D for St. Anne's Reel, a new world import from the old world that is now firmly entrenched in the core repertoire of old-time enthusiasts both new and old.
Now, reels are a form of traditional Scottish or Irish dance, not to be confused with a jig, strathspey, or waltz, unless of course you don't hail from either Scotland or Ireland, in which case you likely first encountered the word strathspey twenty eight words ago. As it turns out, of all these forms, reels tend to lend themselves best to old-timeification, so you'll find quite a number of them in the old-timey tune repertory.
Strathspeys? Not so much. Reels also make great fodder for puns, but I promise to resist temptation in this post, unless it's a reely good one (just move on).
Step 1: Know Thy Melody
First things first, it's time we cement the St. Anne's melody in our minds, so once again we'll sneak over to the fiddle hangout (be verry quite, fiddlers can be an ornery bunch!) and listen to a few of their versions:
Step 2: Find the melody notes
In general, reels tend to be a machine gun barrage of eighth notes, so you'll note that even the essence of St. Anne's Reel turns out to be on the notier side. About as notey as old-time tunes get, in fact. So here's what my distilled version of St. Anne's reel sounds like:
And here's what it looks like in tab (chord changes listed above the tab staff). Remember, we're in double D tuning (aDADE) here: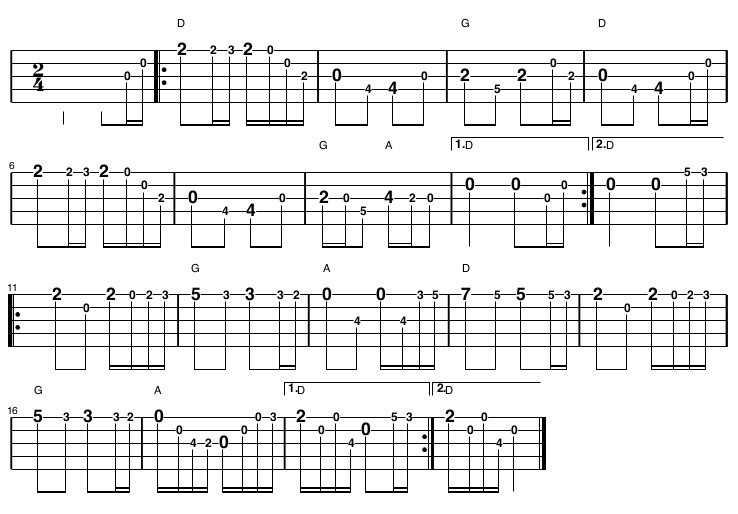 Step 3: Add some clawhammery stuff
Now, once again, given that this is a fiddle tune, and given that we're preparing to play this in a jam setting, we don't need all those stinkin' notes! All we need are rhythmic banjo sounds that are in time and in tune. After all, if you were perpetually tortured by an obsessive-compulsive need to play every single note, you'd have taken up the fiddle!
So, as our standard procedure goes, let's create a basic, jam-ready version on the banjo by taking each of the notes that occur on the downbeat (placed in large, bolded print in the tab above) and following them with a ditty stroke. In tab, it looks like this: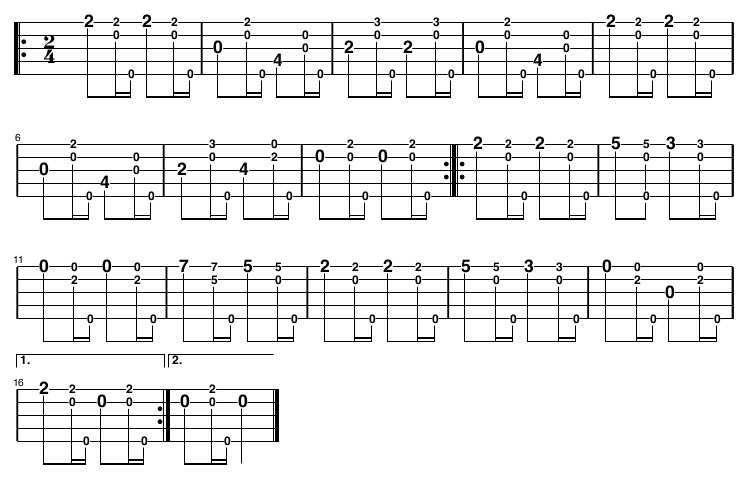 And on a plucked 5-string banjo in our beloved downstroke style, it sounds like this:
And let's here how that basic version sounds alongside the fiddle. Since we've assembled it from St. Anne's basic form, it should sound just fine with most any version of the tune.
Step 4: Embellish to fit the situation
At this point, we can stick with our pared down version, or spruce it up a bit to fit the situation. Just don't lose the rhythm for the sake of making it fancy, else you fall victim to the fiddler stink eye.
As per our usual procedure, in my gussied up (no offense to gus) version, I'm going to try to match as best I can what the fiddle player is doing. Given the notiness of this tune, matching it note for note will require we employ nearly all of the clawhammer bag of tricks: drop thumbs, hammer-ons and pull-offs both on plucked and non-plucked strings (i.e. "alternate string hammer-ons and pull-offs"). Now is the time you can put any latent obsessive tendencies to good use. Here's what that version sounds like:
And here's the tab for it: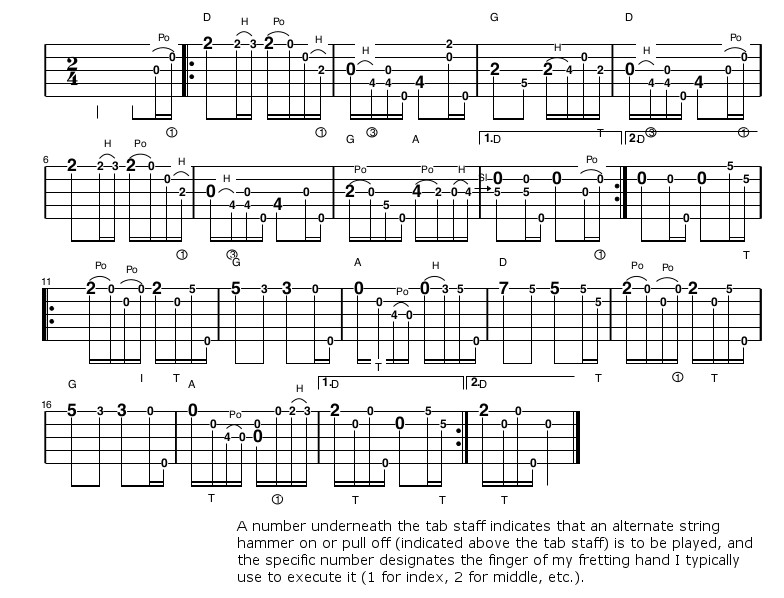 Depending on your current technical level, you can try to copy this version entirely, or liberally steal bits and pieces. Just don't be afraid to mess around with the tune, as that's when some of the best musical growth occurs.
Remember, it's unlikely you'll encounter any two fiddlers who play any tune the same way, so understanding how to adapt your playing accordingly is a great skill to have. Remember, you always have the basic version as your home base.
Now, let's see what our notier banjo version sounds alongside the fiddle:
Step 5: Practice smart
Don't forget to make good use of your virtual friends at www.oldtimejam.com as you try to burn this tune under your fingers. They're ready, willing, and able to back you up until you've gotten St. Anne's into jam ready condition. It's a lovely tune, so with a little hard work and time, you should end up with something that sounds REEL nice (I know, it hurts me too)!