Episode 9: Ragtime Annie
Okay, loyal CCRS reader, this month you're in for a slight change of pace.
How so? Two reasons:
 Reason #1: We're learning a rag (well, sort of…it might be better categorized as "raggish", as its format and rhythmic stylings don't quite fit the rag prototype).
Reason #2: In the interest of providing a full multimedia experience, I've recorded a video of the final version of the tune, which you'll find directly below this list of reasons.
Reason #3: I could only think of two reasons, remember.

So, following the same compositional procedure we used in episodes 1-8, we'll now dig down into the nitty gritty of creating the arrangement you just heard. It's time to make the sausage.
Step 1: Know Thy Melody
Ragtime Annie has worked its way into the core of several regional fiddling traditions, and appears to be especially common amongst bow draggers in the Lone Star state. Texas fiddling seems to be a bit more contest oriented than most fiddling styles, so you may find a bit more gratuitous fanciness in the rendering of a tune. Gotta impress them judges.
This, I believe, is one reason why we find a bit more than the usual amount of variation in how this tune is played from one fiddler to the other. Nonetheless, if you listen to a few versions, I think you can still clearly identify a strong core melody.
(I should also point out that there's both a 2 and 3 part version of this tune, and which one gets played also depends on where you are, or where perhaps the fiddler leading it is from. At any rate, we'll be learning the 2 part version, which I find to be more common in jams.)
So let's get down to the business of core melody extraction. To help get this sucker embedded in your noodle, here are a couple versions on the fiddle, courtesy of our compadres at fiddle hangout, for your listening pleasure.
And here's a nice version, recorded in 1926, with Posey Rorer on fiddle and Charlie Poole on the 5-string, courtesy of youtube.
Remember, our first goal is just to identify the core notes of this tune. When you can whistle or hum it to yourself, then you're ready to move on to Step 2.
Step 2: Find the Melody Notes
Once you've got the basic melody down cold, it's time to find it on your banjo. Remember, we're only looking to find the melody notes. No banjo filler yet.
Here's my version of the unadorned melody:
And this is how it looks in tab. Since this is a D tune, I find it works itself out quite well in double D tuning (aDADE):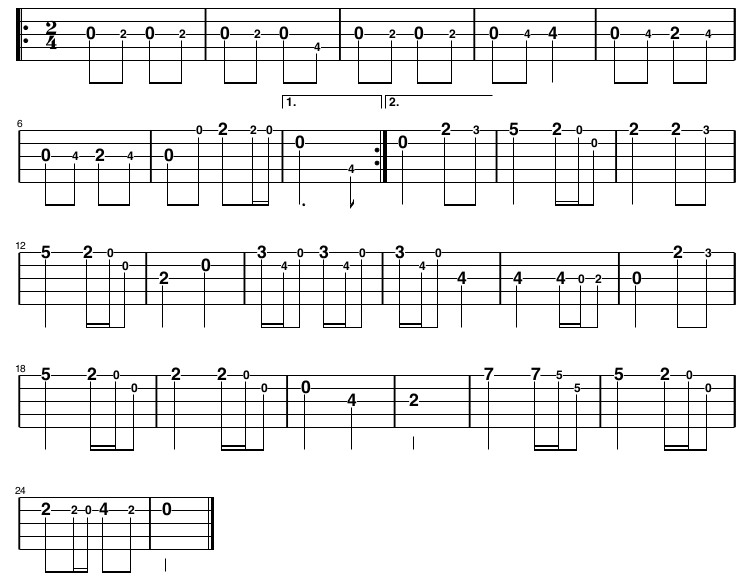 Step 3:  Add some clawhammery stuff
Now it's time to give that melody some banjoistic bounce. As per our usual method, we'll play all the melody notes that occur on the downbeat with our frailing finger, and then follow that with a ditty stroke. You'll notice there are a few instances in the tab below (in the A part primarily) where you'll be fretting a different melody note on the ditty stroke. This is slightly more advanced than the basic versions I've presented in the past, however, I think it makes a noticeable improvement in the sound of the arrangement, and I think you folks are more than up to the task at this point.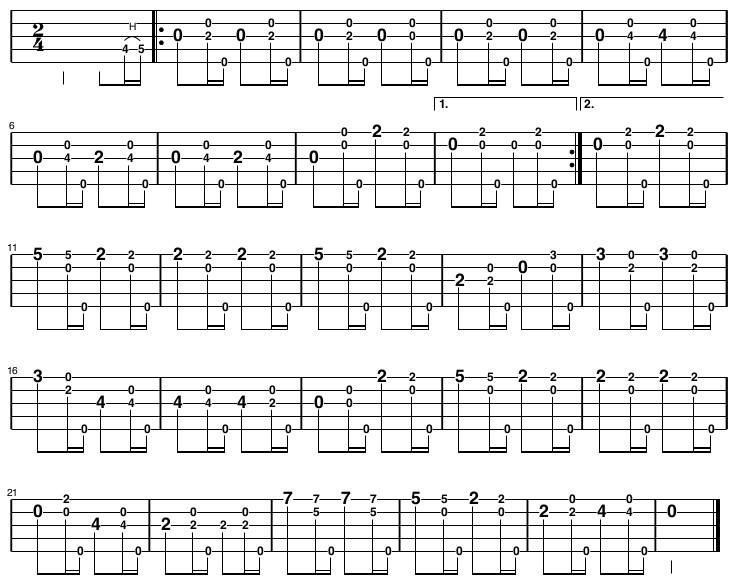 And here's what that sounds like:
At this point, if you find a fiddling buddy to play it along with (or use the fiddle backup at oldtimejam.com), the two of you should now sound something like this:
And just like that, you're jamming up a storm.
Step 4: Embellish as you see fit
Like I said, Ragtime Annie is one of those tunes where fiddlers like to strut their stuff. Especially in Texas.
So now it's your turn. Go ahead and add any embellishments that suit your fancy, or perhaps find a tricked out fiddle version you like and try to emulate that.
You can hear my attempt to take things up a notch in the video above. Here's what it looks like in tab:
Step 5: Practice smart
Now it's time to burn this one into your brain circuits. My favorite place to start doing so are the Beats for Banjo tracks (select tempo through the playlist icon on the upper right):