Episode 12: Mississippi Sawyer
For most of you, the word "sawyer" likely calls to mind an image of a rugged individiual cutting through some raw timber. And, if I told you that it also referred to a fallen tree tethered on one end to the bottom of a river, threatening to ruin the day of unsuspecting navigators of rivergoing watercraft, you might question my veracity.
And if I also told you that a tune named after said fallen tree was one of the greatest pieces of hominid-composed music ever written, you might reasonably think me to be a purveyor of tall tales.
But you'd be wrong.
That's right, in this installment of the Clawhammer Core Repertoire Series, we'll be learning one of the foot stompingest tunes known to the old time pantheon: Mississippi Sawyer.
Science has also concluded unequivocally that, by a wide margin, it's the best song ever written about a log.
Here's what our final version sounds like:

Step 1: Know thy Melody
First things first, let's get this melody embedded in your neural crevices, buried deep enough to avoid clandestine eradication. Fortunately, many of our sawing brethren over at the fiddle hangout appear equally fond of this tune, and have provided a bevy of sonic samplings from which to choose from. Here are a few:
Listen enough times till you can whistle or hum the basic melodical structure, and then you're ready to search for them notes on your banjer. Before you go note hunting, get your instrument in double D (aDADE) tuning, this being a D tune and all.
Step 2: Find the Melody Notes
So here's what I hear as the distilled essence of this tune:
And here it is in tab: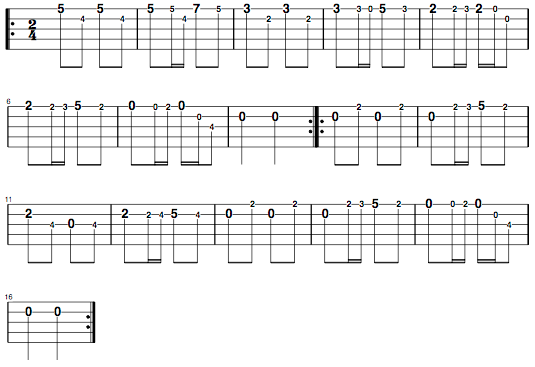 Step 3: Add Some
Clawhammery

Stuff

Next up, after we add in some ditty strokes after the melody notes that fall on the downbeat (the ones in bold in the above tab), we've already got a nice version to take to our next jam. Here's what that looks like in tab: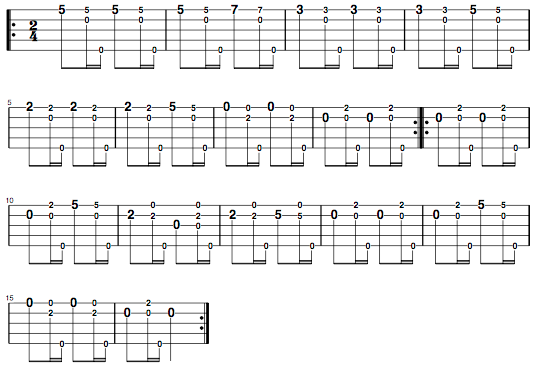 And it sounds as follows:
If we pair this arrangement up with a fiddle, we find we've already got something that would make our sawstroking comrades perfectly happy.
Step 4: Personalize your log
If you'd like to take things a step further and make this tune your own, now's the time to go to town. Dress up your log anyway you choose. Throw in some more of those melody notes you hear from the fiddle with some drop thumbs or left hand pyrotechnics, or keep things simple and rhythmical. You can hear my fancified version in the video above. And here's that version in tablature representation:

Step 5: Practice Smart
Now it's time to burn this one into your brain circuits. My favorite place to start doing so are the Beats for Banjo tracks (select tempo through the playlist icon on the upper right):