Episode 13: Bile Dem Cabbage Down
It's great to be an old-time banjo player, isn't it?
While the guitarists down at the local open mic are relegated to navel gazing songs about the pain of infidelity and the search for the meaning of life, we get to sing instead about things like chickens clucking and groundhog hunting.
And cabbage boiling.
That's right folks, for this installment in the core repertoire series, it's time for everyone's favorite homage to cruciferous vegetable preparation: "Bile Dem Cabbage Down."
First off, here's a sonical preview of our final arrangement:
Step 1: Know Thy Melody
Most of you are probably at least somewhat familiar with how this one goes, and it shouldn't take those of you who aren't very long to get familiar with it. The melody here is simple, catchy, and tons of fun. Here are a few examples played on the devil's box. Remember to try and listen here for the basic melodic outline of the tune. Start humming along whenever you feel ready:
Step 2: Find the Melody Notes
Now let's see if we can locate the notes of our core melody on the 5 string. This tune is typically played in the key of A in jams, so go ahead and get yerself into aEAC#E (standard G with a capo at the 2nd fret). Ironically, the basic melody of this tune is so simple, it lends itself to lots of fanciful ornamentations and interpretation on the fiddle, which perhaps makes distilling it to its core essence a bit more challenging.
Here's what I hear as the essence of this tune, rendered on the banjo:
And here's what that looks like in tab: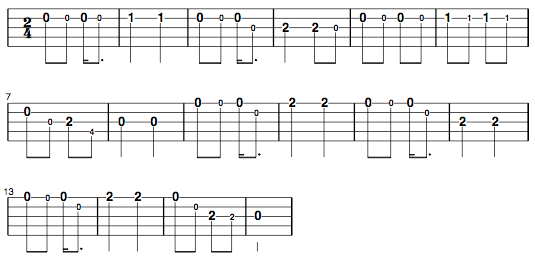 Step 3:  Add Some Clawhammery Stuff
Now we'll put the melody through the clawhammerizer by taking the notes that occur on the downbeat (the ones in bold in the above tab), and add a brush-thumb stroke (or a "ditty" stroke) after each one. Our resulting arrangement looks as follows:

And sounds like this:
And if we pair this one along with the fiddle, we find it already makes for nice company:
Step 4: Season to Taste
Feel free to spice this one up at this point any way you like. The simple melody here leaves lots of room for individual expression, so feel free to go to town. Try sliding into some of the melody notes, put in a few well placed hammer ons or pull offs, or perhaps see if you can mimic the fiddle from any of our earlier examples.
Here's the tab of my seasoned cabbage, which you can hear in the video above.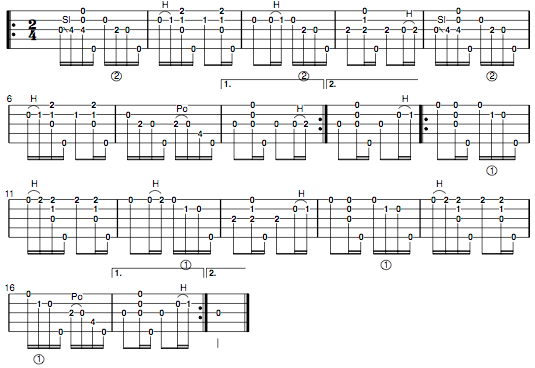 Step 5: Practice Smart
Now it's time to burn this one into your brain circuits. My favorite place to start doing so are the Beats for Banjo tracks (select tempo through the playlist icon on the upper right):