Episode 11 – "The Arkansas Traveler"
"This next tune we're gonna play is called 'The Arkansas Traveler'".
Blank stares.
"You know, it's the 'I'm bringing home a baby bumble bee song'."
A few stares transform into looks of recognition.
Our fiddle player launches into the first few notes of the tune.
Now most everyone seems to get it. I can see what most of them are thinking, too: Arkansas Traveler? I didn't know that's what this tune was called.
That was my reaction, too, when I first heard this tune rendered under the Arkansas Traveler moniker, back in the early days of my banjo adventure. Until then, I'd just assumed it had been composed by some gifted 9 year olds in need of a melodic setting for their song about bee-remains-ingesting children and the mothers who love them for it.
All this to say, while not all of you may know this tune by name, chances are it's familiar to you. It's another one that's been around quite some time – early to mid 19th Century as best I can gather – and made its way into all sorts of popular American culture. Including in various old time fiddle traditions throughout the lands.
Unless you're from Arkansas, where none of this applies to you, seeing that "Arkansas Traveler" has been your state song since 1987.
(And, of course, if you live somewhere besides the US, which I know many of you do, you'll just have to take my word about all this.)
Okay, enough pre-ambulatory chatter, time to do some learnin. For a preview of my final arrangement, check out the video below:

Step 1: Know Thy Melody
As a general rule, the longer the folk process has to work on a tune, the more variations you'll hear in how it's played. The Arkansas Traveler, with roughly a couple of centuries behind it, is no exception.
Here are a few examples from our fiddle hangouting companions:
Example Two (a cut off fiddler Matt Brown's album "Lone Prairie")
Before we get started finding notes on our banjos, go ahead and get yourself into aDADE tuning, as this one's typically played in the key of D.
Step 2: Find the Melody Notes
Hopefully for many of you, particularly those who can still recall gleefully singing about barfing up baby bumble bees, getting this melody entrenched into your noggin' won't prove too difficult. After you can hum and whistle it's basic structure to yourself, it's time to find it on the five string.
Here's the way I hear it:
And here's what that looks like in tab: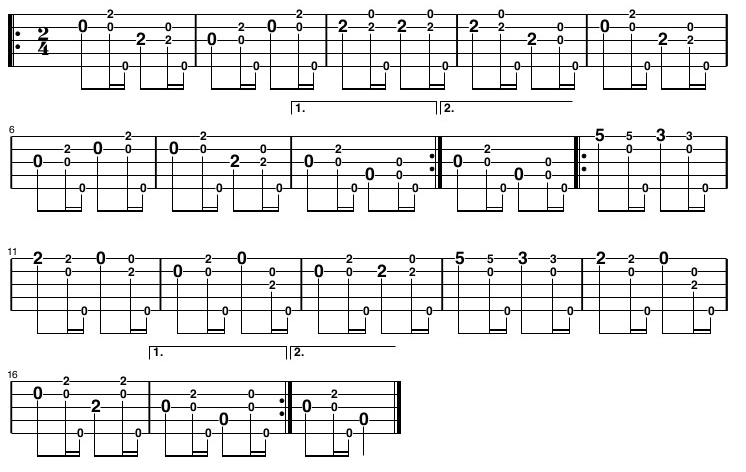 Step 3:  Add some
clawhammery

stuff

Now for some basic clawhammerization of the melody, take the notes that occur on the downbeats, which are bolded in the tab above, and just add a "brush-thumb", aka a "ditty", stroke after each one. The resulting arrangement in tab look thusly:

And on the banjo sounds something like this:
Pair that version up with the fiddle, and we find the two make a lovely couple:
Step 4: Embellish as you see fit
Now it's time to let loose and add to this arrangement in whatever way suits your fancy. As a fiddle tune, this one is fairly notey, so feel free to try to grab some of those extra melody notes on your banjo with an appropriately placed drop thumb, hammer on, or pull off.
Here's the tab of my version, which you can hear in the video above, where I've added in some more melody notes, and thrown in the occasional melodic syncopation.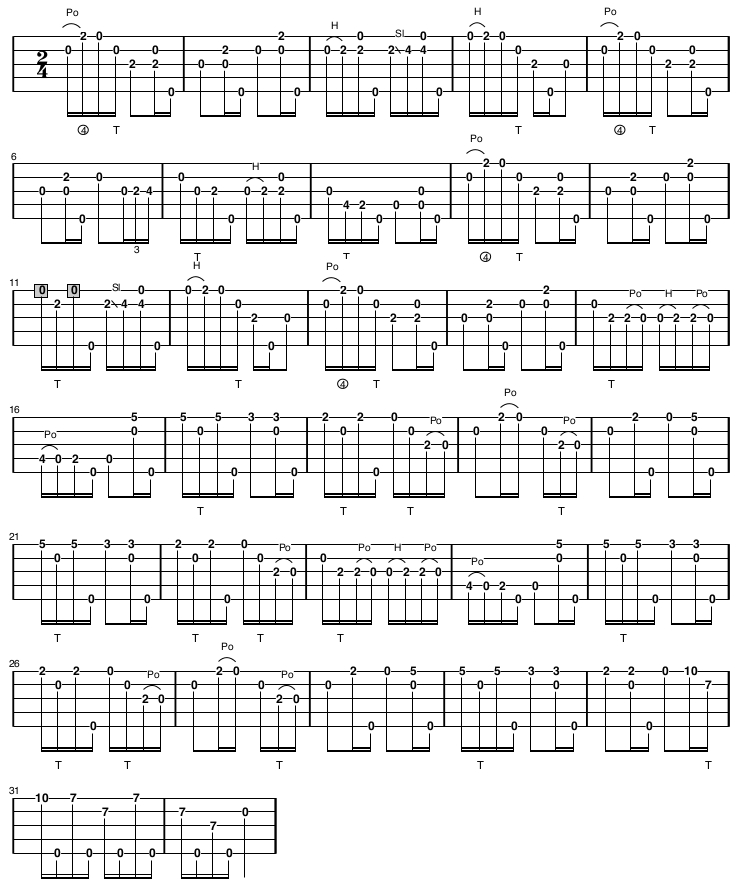 Step 5: Practice smart
Now it's time to burn this one into your brain circuits. My favorite place to start doing so are the Beats for Banjo tracks (select tempo through the playlist icon on the upper right):